The Sandman Will Keep You Awake - The Loop
Play Sound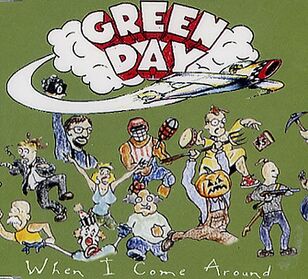 Background
When I Come Around is a single from Green Day's album Dookie from 1994. It was the final single from the album. "When I Come Around" was Green Day's most popular radio single in their early career; not only did it top the Modern Rock Tracks for seven weeks, but it also hit number two on the Mainstream Rock Tracks and number ten on the Billboard Hot 100 Airplay.
Music Video
The music video shows the band walking to different places like the Mission District and a BART station in San Francisco and Berkeley, California at night along with various scenes of people doing common things all inter-related. One of the first scenes of the video eventually leads back to the scene at the end of the video. The band's friend and now backup guitarist Jason White can be seen in the video, with his girlfriend at the time. Mark Kohr directed this video.
Before the video was filmed, MTV used live performance of the song by the band at the 1994 Woodstock Festival.
MTV's Ultimate Albums: Dookie special credited the simple horizontally-striped sweater worn by Billie Joe in the video for starting a fashion trend of similar sweaters.
Track listing
Initial pressing
"When I Come Around" - 2:58
"Coming Clean (Live)" - 1:36
"She (Live)" - 2:14
(Live tracks recorded at Aragon Ballroom, Chicago on March 11, 1994)
Chart positions
| Year | Chart | Position |
| --- | --- | --- |
| 1995 | Modern Rock Tracks (US) | No. 1 |
| 1995 | Top 40 Mainstream (US) | No. 2 |
| 1995 | Billboard Hot 100 Airplay | No. 10 |
| 1995 | Official Sweden Singles Chart | No. 28 |
| 1995 | Official UK Singles Chart | No. 27 |
| 1995 | Official German Singles Chart | No. 45 |