Stuck with Me

Released
October 10, 1995
December 27, 1995 (As a single)
Genre
Punk rock
Length
2:15
Insomniac songs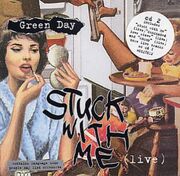 Stuck with Me is the third track on Insomniac, as well as the second single from the album.
Song Meaning
The song is about being too weak, and too much of a push-over to stand up for yourself. It is also about being part of the upper classes after Dookie's release, and how Billie Joe Armstrong didn't quite fit in.
Studio Mix-Up
When Green Day was recording songs for Insomniac, they were trying to think of an appropriate name for the song that later was released as "Stuck With Me". The also recorded the song now called "Do Da Da" around the same time. However, the song was originally called "Stuck With Me", because those words actually appear in that song. Unfortunately, there was a studio mix-up, and someone labeled the third track on Insomniac "Stuck With Me". When the band discovered the error, they felt the name was appropriate for the song and kept it. When it came down to deciding on B-Sides, Green Day decided to release the real "Stuck With Me". They in turn gave it the nonsensical name "Do Da Da"
Track listing
Single CD
Promo
No.
Title
Length
1.
"Stuck With Me"
2:16
2.
"When I Come Around" (live)
2:54
3.
"Jaded" (live)
1:52
Track 2 and 3 recorded live September 4, 1995 at Vejlby Erhus Vejby Risskov Hall, Stockholm Sweden
Single CD (live)
Promo
No.
Title
Length
1.
"Stuck With Me" (live)
2:36
2.
"Dominated Love Slave" (live)
2:10
3.
"Chump" (live)
2:42
Recorded live at September 4, 1995 at Erhus Vejby Risskov Hall, Stockholm Sweden
Charts
Chart (1995)
Peak

position

Australia (ARIA)
46
New Zealand (Recorded Music NZ)
40
UK Singles (Official Charts Company)
26
Lyrics
Main article: Stuck with Me/Lyrics