Jurassic World: Dominion Dominates Fandom Wikis - The Loop
Play Sound
John Kiffmeyer
Background information

Also known as

Al Sobrante
Born
July 11, 1969 (age 48)

El Sobrante, California, United States

Genres
Punk rock

Occupation(s)

Musician, producer
Instruments
Drums

Years active

1987–1995, 2015 (musician)
1995–present (producer)

Associated acts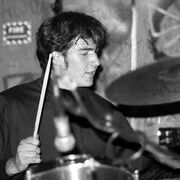 John Kiffmeyer (born July 11, 1969), known professionally in music as Al Sobrante, is an American musician, best known as the original drummer for Green Day. He was also in the band Isocracy, a well-respected band in the 924 Gilman scene. He eventually decided to focus on his educational endeavors and quit the band to become a full-time college student. He was featured on the bands first releases: 1,000 Hours, Slappy, Sweet Children. and their debut album 39/Smooth.
Biography
John Kiffmeyer was born in California on July 11, 1969. His first exposure in the punk scene was as the drummer of the band Isocracy. The group was popular in the East Bay, and mainstays at the famed club, 924 Gilman Street.
However, Kiffmeyer is most well known for his time in Green Day. After the end of Isocracy, Kiffmeyer helped form Green Day. Because of his experience and knowledge of the underground community, Kiffmeyer was able to get the young band on its feet by placing calls to friends, among them prominent figure of the East Bay Larry Livermore. The first few performances took place at Contra Costa College, where Kiffmeyer was a journalism student. On the strength of an early performance, Livermore vowed to release a Green Day record on his Lookout! Records. The group's first full-length effort, 39/Smooth would feature a Kiffmeyer original, "I Was There", which documented the band at that place in time.
In 1990, he left the band to attend college at Humboldt State University in Arcata, California. Kiffmeyer later joined the band The Ne'er Do Wells, leaving abruptly in 1994. Following a stint with punk band The Ritalins, he became manager of The Shruggs until their split. Recently he produced "The Lost Troublemakers Album" by The Troublemakers, a garage band from Sacramento, California. He now lives in San Francisco, California with his wife Greta and his young son Lolo.
Leaving Green Day
Al left Green Day around 1990 to go to college. He didn't leave on friendly terms, though, because he neglected to tell the band about his departure (they only found out by another source). To get him back, Green Day didn't tell Al that they were replacing him, and when quoting his departure, Billie Joe said "he was a dick anyway."
Reunion With Green Day
On April 16, 2015, Kiffmeyer joined Billie Joe Armstrong and Mike Dirnt on stage during a Green Day concert at The House of Blues Cleveland, Ohio where the trio performed as Sweet Children, playing songs that they had not performed since the 1990's including "Sweet Children", "I Was There", and "Dry Ice".