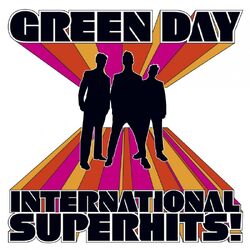 International Superhits! is the 2nd compilation album by Green Day.
Released 8 September 2004
Recorded 2003 – 2004
Genre Pop Punk, Punk Rock, Alternative
Length 60:43
Label Reprise Records
Producer(s) Green Day, Jerry Finn, Rob Cavallo
Track Listing
All songs by Billie Joe Armstrong (lyrics) and Green Day (music), except where noted.
"Maria" – 2:47
"Poprocks & Coke" – 2:38
"Longview" – 3:53
"Welcome to Paradise" – 3:44
"Basket Case" – 3:01
"When I Come Around" – 2:58
"She" – 2:14
"J.A.R. (Jason Andrew Relva)" (Mike Dirnt/Green Day) – 2:51
"Geek Stink Breath" – 2:15
"Brain Stew" – 3:12
"Jaded" – 1:30
"Walking Contradiction" – 2:31
"

Stuck With Me

" – 2:16
"Hitchin' a Ride" – 2:52
"Good Riddance (Time of Your Life)" – 2:34
"Redundant" – 3:18
"Nice Guys Finish Last" – 2:49
"Minority" – 2:48
"Warning" – 3:42
"Waiting" – 3:12
"Macy's Day Parade" – 3:33
"Having A Blast (Live)" – 2:51