The Sandman Will Keep You Awake - The Loop
Play Sound

Father of All Motherfuckers (also known by the censored form Father of All...) is the thirteenth studio album by Green Day, released on February 7, 2020 through Reprise Records. It is the band's final album to be released through Reprise, marking the end of their 26-year relationship.​
Composition
According to Billie Joe Armstrong, the album is "The New! soul, Motown, glam and manic anthemic. Punks, freaks and punishers!" He would also state that the lyrics are about "the life AND death of the party" and the "lifestyle of not giving a fuck." With a runtime of 26 minutes and 12 seconds, it is Green Day's shortest album, surpassing their debut album 39/Smooth, which is 31 minutes and 13 seconds.
The cover features the same image that features on the front of the band's 2004 LP American Idiot. However, the arm holding the grenade is colored tan instead of white, zoomed in a little, and has the album title written on it. Part of the album title is censored by a cartoon unicorn vomiting out a rainbow. The limited edition version of the album uses an alternate version of the cover, which lacks the unicorn.
Track Listing
Japanese Edition
No.
Title
Length
11.
"Bang Bang" (Live from The Whisky)
3:52
Total Runtime:
30:04
Singles
Father of All...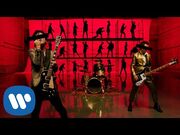 Father of All... was the first single of the album to be published by the band, released on September 10, 2019. A music video to accompany the song would appear online over a week later and is the most recognizable out of the singles. The song serves as a musical departure for the band as it contains many more elements of garage punk, along with the pitches of their voices being noticeably higher.
Fire, Ready, Aim
Fire, Ready, Aim was released as simple promotional material for the album but also as the opening theme for the National Hockey League. It was released on October 9, 2019. The song never saw an official music video from the band, but a music video from the NHL on the song currently exists.
Oh Yeah!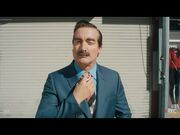 Oh Yeah! was released as the second official single on January 16, 2020 which was accompanied with a music video. The song is most known for using a sample from Joan Jett's cover of Gary Glitter's song, "Do You Wanna Touch Me." Similar to Fire, Ready, Aim, the song ended up being used as a opening theme to the WWE's Pay-per-view 2020's program, Backlash.
Meet Me on the Roof
Meet Me on the Roof was released alongside the song, also accompanied with a music video on February 7, 2020. Gaten Matarazzo would star in the music video, and the band would use this song to help promote their co-headlining tour, Hella Mega Tour.
Charts
Weekly charts
| Chart (2020) | Peak Position |
| --- | --- |
| Australian Albums (ARIA) | 1 |
| Austrian Albums (Ö3 Austria) | 2 |
| Belgian Albums (Ultratop Flanders) | 11 |
| Belgian Albums (Ultratop Wallonia) | 7 |
| Canadian Albums (Billboard) | 6 |
| Czech Albums (ČNS IFPI) | 59 |
| Dutch Albums (Album Top 100) | 15 |
| Estonian Albums (Eesti Tipp-40) | 31 |
| Finnish Albums (Suomen virallinen lista) | 14 |
| French Albums (SNEP) | 34 |
| German Albums (Offizielle Top 100) | 2 |
| Hungarian Albums (MAHASZ) | 2 |
| Irish Albums (OCC) | 4 |
| Italian Albums (FIMI) | 9 |
| Japanese Albums (Oricon) | 9 |
| New Zealand Albums (RMNZ) | 5 |
| Norwegian Albums (VG-lista) | 12 |
| Polish Albums (ZPAV) | 28 |
| Portuguese Albums (AFP) | 3 |
| Scottish Albums (OCC) | 1 |
| Spanish Albums (PROMUSICAE) | 7 |
| Swedish Albums (Sverigetopplistan) | 19 |
| Swiss Albums (Schweizer Hitparade) | 1 |
| UK Albums (OCC) | 1 |
| US Billboard 200 | 4 |
| US Top Rock Albums (Billboard) | 1 |
Year-end charts
| Chart (2020) | Peak Position |
| --- | --- |
| Hungarian Albums (MAHASZ) | 38 |
| US Top Rock Albums (Billboard) | 66 |
Personnel
Green Day
Production
Butch Walker

– producer, engineering

Chris Dugan

– producer, engineering, mixing
Todd Stopera – assistant engineering
Tchad Blake – mixing
Elin B. – mixing assistant
Brian Lucey – mastering
Nathaniel Mela – drum tech
Andrew Hans Buscher – guitar tech
Chris Bilheimer – design
Pamela Littky – photography
See Also