Artwork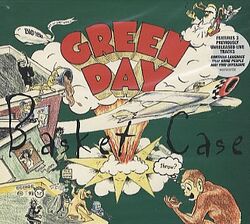 Basket Case is a song by Green Day from their 1994 hit album Dookie. After the single was released in January 1995, the song ended up being a huge hit. The song was written by frontman Billie Joe Armstrong about his struggle with anxiety; before he was diagnosed with a panic disorder, he thought he was going crazy. The music video, featuring the band members in a mental institution, received heavy airplay on MTV. This song and its music video helped propel Dookie to become a major success among most mainstream rock listeners. Dookie went on to become a multi-platinum album featuring this song as well as hit singles "Longview", "When I Come Around", "Welcome to Paradise" and "She".

In 1995, Green Day was nominated for a Grammy for Best Rock Vocal Performance by a Duo or Group for "Basket Case".

In 2006, on Mike Davies and Zane Lowe's Lock Up Special on BBC Radio 1, the listeners voted "Basket Case" the Greatest Punk Song of All Time. This result was controversial, as many people don't consider Green Day to be a punk band.

This song can also be found on their 2001 greatest hits compilation International Superhits!. The music video can be found on their International Supervideos! DVD. The song is also found on their 2018 compilation album, God's Favorite Band. A live version is also found on Bullet in a Bible, a live album of Green Day performing at the Milton Keynes National Bowl in 2005.
Video
The video is set inside a very weird mental home, where the band performs the song. The video was apparently shot in black and white, with color added in later.